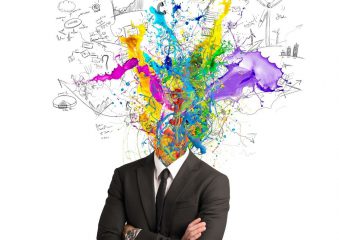 Buy magic mushrooms.Contrary to what anti-drug advertisements would have you believe, your brain on psychedelic drugs is nothing like frying an egg ─ not even close. Psychedelics such as magic mushrooms have been traditionally consumed for thousands of years and their psychoactive compounds trigger some pretty trippy neural changes that can quite literally free your mind.
.
Psychedelics are incredibly effective medicines that have a long history of use in healing ceremonies. A growing amount of academic research supports this traditional evidence, indicating that these substances offer a promising new outlook for treating an array of mental health issues, including severe anxiety and depression.
.
Yet there are challenges when it comes to studying psychedelics and magic mushrooms─ mainly due to their prohibited nature in many countries ─ meaning that a lot of the science still trails behind and actually we are not totally clear on how they work in the brain. That said, we do know some ways that shrooms affect the mind and beyond…
.
What's Going On Up There?
.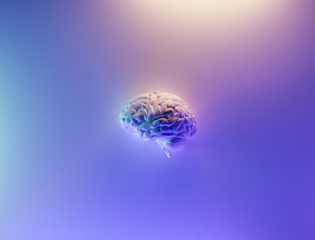 .
There are more than 180 species of magic mushrooms that produce a psychoactive ingredient called psilocybin. When you take a handful of mushrooms, this compound gets metabolized and changes into a molecule called psilocin which closely resembles serotonin in structure ─ close enough that it can bind to the same neural receptors (especially ones called 5-HT2A responsible for mood, perception and imagination). Scientists are pretty sure that many of the drug's trippy qualities and its therapeutic potential are associated with psilocin's ability to bind to these receptors.
.
Serotonin acts as a neurotransmitter in the brain and is also found in high concentrations throughout the body (especially in the gut). It has a direct effect on the neurons it binds to and modulates the effects of other neurotransmitters throughout your whole neural system.
.
Typically associated with mood and well-being, serotonin also plays a role in cognition and psychosis. Too low levels of serotonin are connected to OCD and depression, making it the primary target for antidepressant medication. Consuming magic mushrooms helps stimulate the serotonin system which can often lead to an acute improvement of mood, as well as euphoria and emotional release.
.
Why are these substances so healing for our brains?
.
.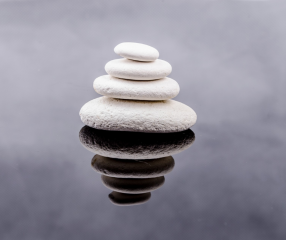 .
Some familiar reports of mushroom trips include seeing sounds, hearing colours and other forms of synesthesia. This is most likely because psilocybin seems to allow parts of the brain that normally don't interact to begin to engage with each other. Magic mushrooms also affect the brain's prefrontal cortex, the part of the brain that regulates abstract thinking, thought analysis, and plays a key role in mood and perception.
.
Brain imaging studies show that psychedelics have profound effects on neural activity, destabilizing individual brain networks and creating a more interconnected global network across the brain. Typically neurons are firing in fairly consistent patterns or well-worn neural highways that criss-cross the brain; when you consume magic mushrooms these networks shift, and new roads appear.
.
Research at the Imperial College of London looked at fMRI brain scans of people tripping and saw that ingesting psilocybin triggers different connectivity patterns in the brain, making it less constrained with usual firing modes and communicating across different areas more readily. A nice metaphor to understand this is to imagine your brain as a giant orchestra with many sections playing different songs at once. When you take magic mushrooms suddenly there is a conductor that steps in and facilitates synchronization and harmony across the brain.
Studies also indicate that mushrooms and other psychedelic substances can 'mute' the part of the brain responsible for a sense of self, something known as the default mode network. This area can often be over-pronounced in someone with a tendency towards rumination and depression. Silencing activity in this area can be associated with the ego-loss experience sometimes associated with higher doses of psychedelics.
Essentially there is a domino effect of different changes happening in the brain, altering perception and sense of self, which may be why people often report a profound feeling of unity and spiritual transcendence when taking psychedelics.
.
Neural Guess Work
.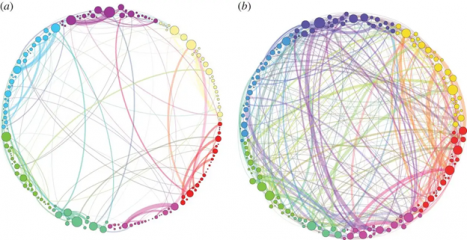 .
Finally, a growing theory about the potential of psychedelics to heal the mind lies in the predictive processing paradigm. Your brain is basically a giant guessing machine that constantly gathers sensory information to help you understand your relationship with the world. Through this process, your perception of the world stabilizes ─ you aren't always having to guess that if something is small, furry and meows that it must be a cat.
.
Psilocybin interrupts this process, distorting your (usually pretty stable) perception of the world and forcing you to manifest a new conception of reality. It makes the brain second guess its preconceived notions and then you experience things anew. You can think of this as a sort of reset for the mind, one that can help interrupt a negative thinking loop often accompanying those that suffer from anxiety, depression or PTSD.
.
There are many reasons why people take mushrooms and other psychedelic substances. While we don't yet fully understand the full extent of how these medicines are affecting our brain, scientific research and anecdotal experience show exciting evidence for the potential of psychedelics to support healing and personal growth.
.
Note: If you're suffering from a mental illness and are curious about using psilocybin or any other psychedelic therapy, please consult one of the relevant medical authorities first. Do not self-prescribe, it's vital to have the right support and guidance when using psychedelics as medicine.
Mushrooms & The Mind ─ How Psychedelics Work in the Brain